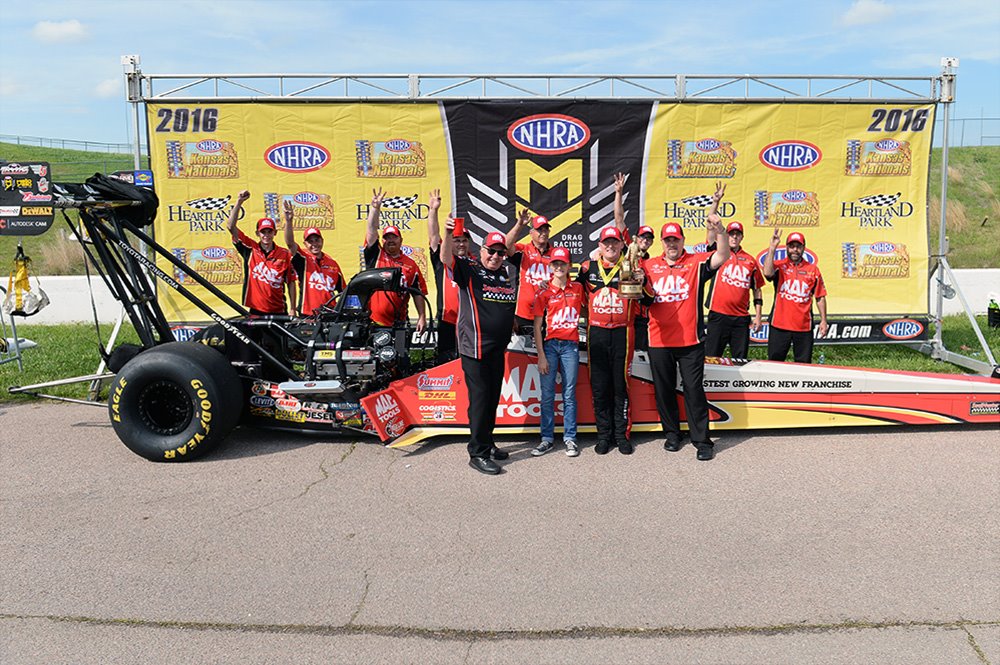 Doug Kalitta is on a roll with his third straight win in Top Fuel at the NHRA Kansas Nationals at Heartland Park Topeka. Kalitta was able to wrestle an unruly dragster back from the brink to eke out a win over Antron Brown with an ET of 5.452 seconds at 238.85 mph after Brown had traction issues at the start.
It was Kalitta's second win at Topeka and 41st victory of his career. Kalitta finished with a performance of 5.452 seconds at 238.85 mph while Brown's Matco Tools dragster also lost traction and posted a 5.687 at 298.60. Kalitta said he has had a few of those kinds of races in his career, which drivers refer to as pedalfests, and as a former USAC Sprint Car champion, he's always up for the challenge.
"It's a seat-of-your-pants kind of deal, and you try to stay off the centerline and not hit the wall," Kalitta said. "I think I had it more sideways than I've ever had a Top Fuel car before. It finally straightened out, and we were fortunate to get the win."
We hope hope Doug can keep the streak going at the NHRA New England Nationals.