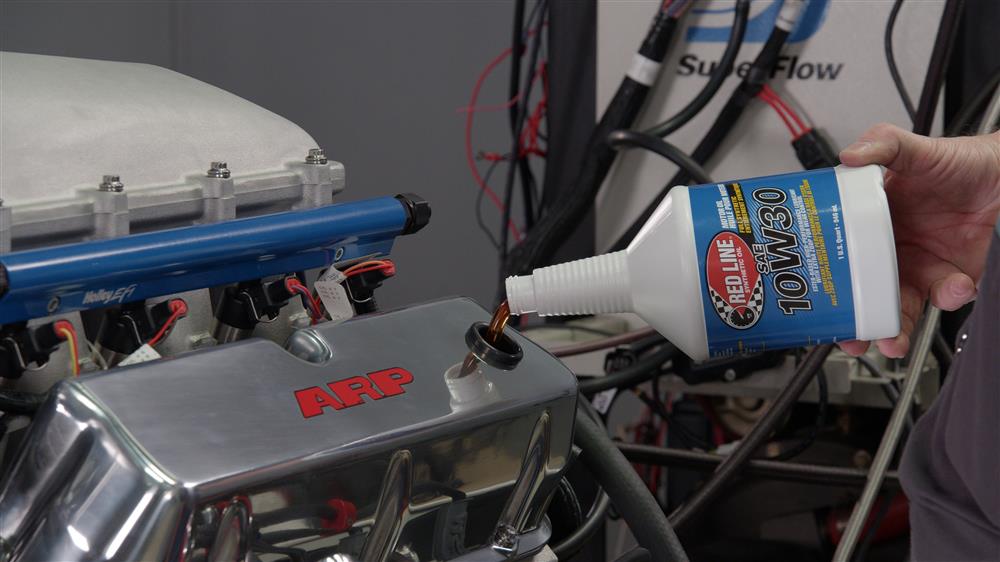 Benicia, Calif. (April 23, 2021) – Red Line Synthetic Oil, a leader in the performance lubricants industry, will be featured on an episode of PowerNation TV's Engine Power. The episode will focus on building a high-performance, Small Block Ford engine for an ARP sweepstakes. The ARP Sweepstakes ran from April 21 through August 11, 2021.
The episode of Engine Power will center around the engine build process and will feature key Red Line products including the brand's High Performance 10W30 Motor Oil. This oil is designed to provide excellent wear protection and friction reduction across a wide range of operating conditions. The episode will first air on NBCSN on April 28, on The Grey Television Network and digital platforms on May 5, and YouTube on May 7.
"We're thrilled to provide our products to support PowerNation TV as they give away this engine to a true automotive enthusiast," said Justin Johnson, Director of Red Line Synthetic Oil. "At Red Line, we work to create top-tier products that customers feel confident using in their vehicles, and we're excited that our lubricants will be an essential part of Engine Power's upcoming episode."
Since the beginning, Red Line Synthetic Oil has created products for racing applications with the idea that racers require the best of the best. This philosophy of creating the most advanced lubricants has become a pillar of the brand, not just within its racing line but with all its product offerings. Red Line creates its synthetic oils and advanced additives using the world's finest base stocks so consumers can rest assured their motorcycles and vehicles are receiving only the highest quality fluids.
For more information on Red Line Synthetic Oil, please visit www.redlineoil.com or follow Red Line Synthetic Oil on Instagram, Facebook or LinkedIn.
For more information on PowerNation TV, please visit https://www.powernationtv.com/.
About Red Line Synthetic Oil
In 1979, Red Line Synthetic Oil began creating lubricants for the racing industry. Today, Red Line Synthetic Oil manufactures more than 100 products, including motor oils, gear oils, assembly lubes, fuel additives and the popular WaterWetter cooling additive for the automotive, motorcycle, marine and industrial markets. Red Line Synthetic Oil uses extensive knowledge of racing to create high-performance products for track cars and street vehicles. To find a dealer or order online, log on to www.redlineoil.com.
About PowerNation
Based outside of Nashville, Tenn., RTM Studios is a full-service television marketing and media company specializing in automotive content. RTM Studios is a part of the Gray Television family. For more information, visit www.rtmstudios.com.