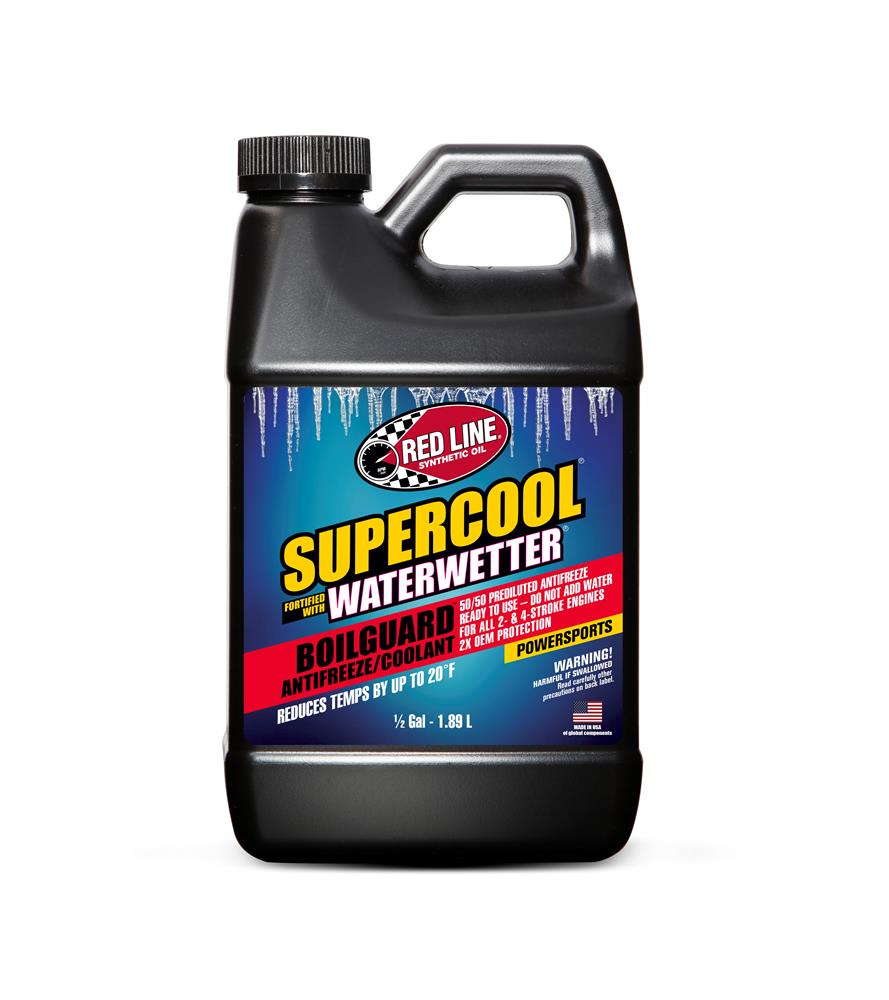 Additionally, Red Line's Existing Powersports Coolant Will Also Feature Refreshed Look and Name for 2021
Benicia, Calif. (May 18, 2021) – Red Line Synthetic Oil, a leader in the performance lubricants industry, today announced the launch of its new powersports antifreeze/coolant, SuperCoolBoilGuard Fortified with WaterWetter®. Formulated to lower coolant temperatures by as much as 20° Fahrenheit, the product is made for all 2-stroke and 4-stroke engines found in motorcycles, side-by-sides, ATVs, UTVs, and snowmobiles.
Red Line's new SuperCool BoilGuard is a pre-diluted, ready-to-use formula, designed to maximize the performance of powersports' cooling systems where freeze protection is required. Additionally, the product maintains superior protection against cavitation, corrosion, and erosion. SuperCool BoilGuard protects the entire cooling system, keeping new components in perfect condition while also preventing further damage to older components. Red Line's coolant additive formula works by enhancing the fluid's ability to transfer heat and can be used in both gas and diesel engines. The product is also available as SuperCool®Concentrate, for those who prefer to create their own water-to-coolant ratio.
Red Line has also announced a refresh to its existing powersports coolant product, featuring a new label, bottle, and name. Formerly known as SuperCool® with WaterWetter, SuperCool® Extreme is a convenient, pre-mixed solution that also reduces coolant temperatures by up to 20°F for powersports vehicles such as motorcycles, ATVs, karts, and more. The coolant will maintain the same popular formula that customers know and love and will remain a go-to option for those who do not also need the freeze protection found in the new SuperCool BoilGuard.
"As we have continued expanding our high-performance coolant offerings over the past year, revamping our powersports line was a major priority for Red Line," said Justin Johnson, Director of Sales at Red Line Synthetic Oil. "We're confident that our powersports customers will see substantial reductions in coolant temperatures while still maintaining the performance and protection they have come to expect from Red Line products."
Since the beginning, Red Line Synthetic Oil has created products for racing applications with the idea that racers require the best of the best. This philosophy of creating the most advanced lubricants has become a pillar of the brand, not just within its racing line but with all of its product offerings. Red Line creates its synthetic oils and advanced additives using the world's finest base stocks so consumers can rest assured their motorcycles and vehicles are receiving only the highest quality fluids.
For more information on Red Line Synthetic Oil, please visit www.redlineoil.com or follow Red Line Synthetic Oil on Instagram, Facebook or LinkedIn.
About Red Line Synthetic Oil
In 1979, Red Line Synthetic Oil began creating lubricants for the racing industry. Today, Red Line Synthetic Oil manufactures more than 100 products, including motor oils, gear oils, assembly lubes, fuel additives and the popular WaterWetter cooling additive for the automotive, motorcycle, marine and industrial markets. Red Line Synthetic Oil uses extensive knowledge of racing to create high-performance products for track cars and street vehicles. To find a dealer or order online, log on to www.redlineoil.com.
##