Drivers James Clay, Tyler Cooke, Cameron Evans and Charlie Postins race at Germany's most famous circuit in BMW M235iR.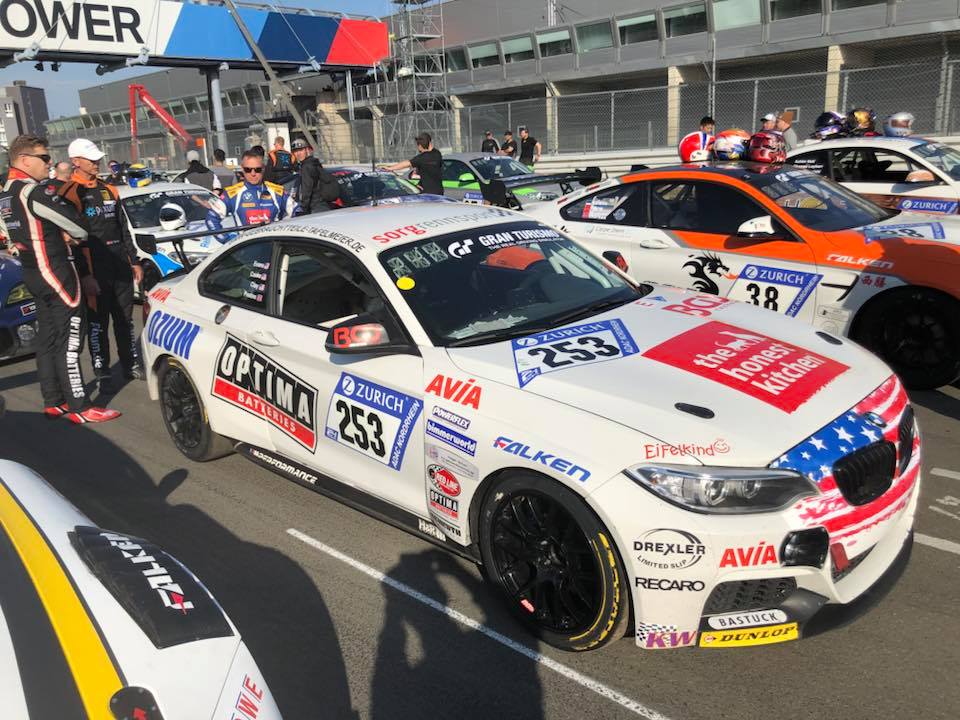 An All-American Red Line-equipped racing team has traveled to the Eifel Forest in Germany to compete in the famed ADAC 24 Hours of the Nurburgring. James Clay, Tyler Cooke, Cameron Evans and Charlie Postins will be racing the No. 253 BMW M235iR prepared by Sorg Rennsport.
"I came here about seven years ago on a Red Line Oil fact-finding trip to see what it would take to get the brand more involved in VLN and the 24" said Cameron. "Lots of oil companies are involved, but we know the Red Line products are in quite a few cars with other decals on them. That's kinda fun and that we did it with our BimmerWorld team makes it more special."
The team will face nearly 150 other cars along the 15.5-mile circuit that winds through the German countryside. Nicknamed "The Green Hell" by Sir Jackie Stewart, the Nurburgring has developed a reputation as one of the most challenging and demanding racing circuits in the world. With over 160 turns and 1,000 feet in elevation change, the race challenges teams to dramatic weather changes and intense competition.
The experienced team will be competing against 20 other BMW's in their class. Clay and Cooke recently finished 3 rd in the ADAC 6-hour race, while Evans and Postins placed 4 th in class. Finishing well at the 24- Hour race however means that the team will earn points and cash payouts in the hard-fought BMW Trophy Cup. Racing around the circuit with 150 other cars proves challenging during the day, however at night the race becomes an entirely different entity.
"We gained a lot of valuable experience driving in the night last year" said Cooke. "Navigating the track at night was almost like having a blindfold on. Knowing what to expect, especially when the sun goes down, will be the biggest game-changer as we enter our second Nürburgring 24."
The ADAC 24 Hours of the Nurburgring will begin at 3:30 PM local time on Saturday, May 12th, 2018 and conclude at 3:30 PM on Sunday, May 13 th . A link to stream the race can be found HERE.