POMONA, California – On a track on which he had little previous success, Texan Steve Torrence produced a complete highlight reel Sunday on the way to an emotional Valentine's Day victory in the season-opening, 56th annual Circle K Winternationals at Auto Club Raceway Pomona.
In the final, the 32-year-old cancer survivor got his Capco Contractors Top Fuel dragster to the finish line .004 of a second ahead of Doug Kalitta's Mac Tools dragster to claim his sixth pro victory but this one was extra special because it propelled him into the Mello Yello point lead for the very first time. He will move on to Wild Horse Pass Motorsports Park in Phoenix leading Kalitta by 32 points.
In its first race, the newly-crafted Capco dragster performed almost flawlessly, averaging 3.757 seconds on eight trips down the 1,000 foot course including a career best 3.703 that delivered Torrence's sixth No. 1 start. This was his first Top Fuel victory from the front of the field.
With his mom Kay, to whom he dedicated the race, his dad Billy and his girlfriend Ally in his cheering section, Torrence stamped himself as an early contender for the $500,000 Mello Yello championship.
Nevertheless, despite a solid day behind the wheel, the former Top Alcohol Dragster World Champion (2005) credited Morgan Lucas Racing, which built the new chassis, for the win along with his Capco crew, especially crew chief Richard Hogan, car chief Bobby Lagana and performance consultant Alan Johnson.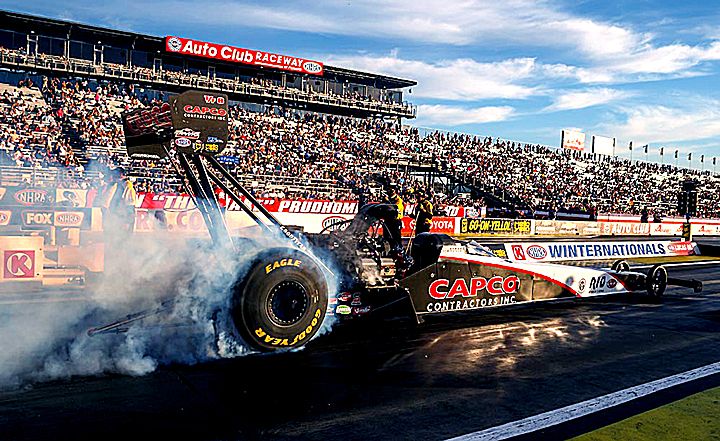 "My guys worked their butts off all winter to get us ready and all weekend they were perfect," Torrence said. "I just tried to do my job and not screw it up. They deserve all the credit but I'll tell you, it was a good weekend to be Steve Torrence and a great way to start our new marketing relationship with Rio Ammunition."
Before Sunday, Torrence had not qualified better than fifth and had reached the semifinal round just one time in 14 previous Pomona appearances without a win or a runner-up finish.
Torrence also praised the new informal alliance he has with the team of rival Brittany Force, for whom Alan Johnson also is a consultant.
"Anytime you can go to a track and get twice as much data, that's a big advantage," Torrence said, "especially when you're racing against all these multi-car teams. I think sharing data with Brittany is going to be mutually beneficial."