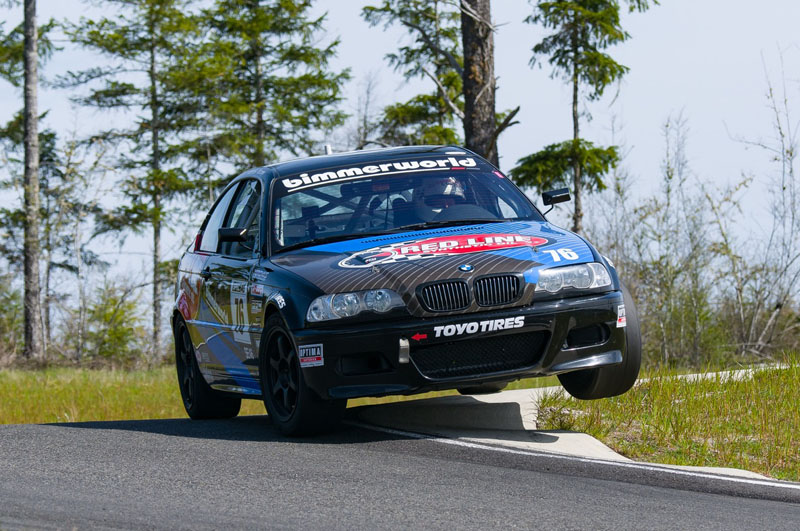 The International Conference of Sports Car Clubs, known as "Conference" to racers in the Pacific Northwest, started its racing season with Mount Rainer as a backdrop at the beautiful Shelton, Washington circuit known as The Ridge. Nearly 30 teams competed in the opening IRDC 6 Hours of the Ridge sports car event, with the Advanced Auto Fabrication-entered BMW 330i of Dan Rogers and Seth Thomas took the overall, beating out quicker prototype sports racers, Vipers, and Porsches.
A huge field of BMW Spec E46 entries led the standings, as the popularity of the growing class showed its muscle, durability and overall performance. Entries included recent SCCA Masters T3 winner Chuck Hurley, IMSA Continental Sports Car Challenge racers James Clay and James Colborn as teammates, Red Line's own Cameron Evans and Charlie Postins, and many more. Clay and Colborn battled the winning car for the first segment of the race, with Evans and Postins eventally trading for the lead with Rogers and Thomas on different pit strategies. All of these teams raced on Red Line's 40WT Race Oil, D4 ATF in the ZF manual 5-speed transmissions, RL 600 Brake Fluid, 75W110 GL-5 gear oil and Water Wetter.
Click here for more information on the ICSCC and for Spec E46 rules and regulations.