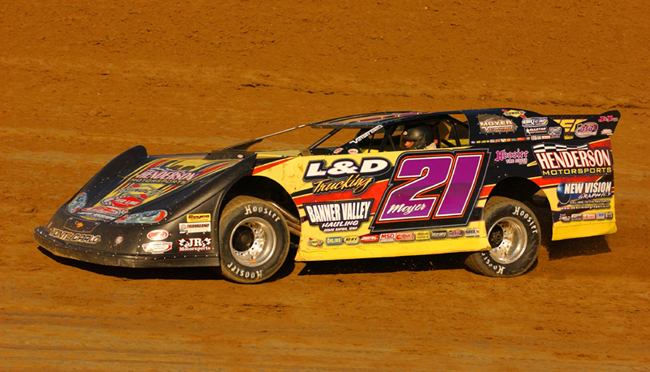 Shawano, Wis. (Aug. 4, 2010) - Billy Moyer had a perfect night at the World of Outlaws Late Model Series event at Shawano Speedway. Twenty-one years after falling short of victory in the national tour's only previous appearance at the half-mile fairgrounds oval, the three-time WoO LMS champion from Batesville, Ark., capped a sweep of the evening's action with a convincing win in the 50-lap A-Main that was run before a capacity crowd.

"To come out and set a track record (in time trials), win the heat and win the main – you can't do no better than that," said the 52-year-old Moyer, who dominated the first incarnation of the WoO LMS (1988-89) run under late WoO Sprint Car Series founder Ted Johnson but experienced a rare finish outside the top five in the tour's stop on June 5, 1989, at Shawano. "That's a storybook deal right there."

Moyer, who started second in his Red Line Oil sponsored Victory Circle car, outran polesitter Brady Smith of Solon Springs, Wis., to turn one at the initial green flag and never relinquished the lead. He raced unchallenged for the entire distance, beating Smith to the finish line by a margin of 4.991 seconds – nearly a full straightaway – in a race that was slowed by a single caution flag on lap 23.

Smith, 33, held off repeated challenges from fourth-starter Jimmy Mars of Menomonie, Wis., to secure the runner-up payoff in his Team Zero by Bloomquist mount. Mars settled for third place in his MB Customs machine, followed by defending WoO LMS champion Josh Richards of Shinnston, W.Va., and Shane Clanton of Fayetteville, Ga., both in Rocket cars. Richards slipped by Clanton for fourth with an outside move off turn four on lap 41 but didn't have enough time to catch Smith and Mars.

Moyer, who won a DIRTcar Summer Nationals event at Shawano in 2002, pushed his WoO LMS alltime-best career win total to 37 with his runaway triumph. He has registered 15 of his victories since 2004, when the tour was restarted under the World Racing Group banner following a 15-year hiatus.

"It was a lot fun there tonight," said Moyer, who earned $10,225 for his second win in nine WoO LMS starts this season. "When the car's working that good it's always a lot more fun than when you gotta work your butt off to get to the end. There were little flaws (in the car) there at times – it can always be better – but it got the job done. I'm real happy with the car and (Clements) engine combination we have right now."

Moyer, whose other WoO LMS win in 2010 came in April's 'Illini 100'at Farmer City (Ill.) Raceway, got himself some momentum to take into this weekend's 23rd annual USA Nationals presented by United States Steel Corporation at Cedar Lake Speedway in New Richmond, Wis. He is a five-time winner of the $50,000-to-win event, which this year is part of the WoO LMS for the first time since 2005.

Moyer established a new track record during the 32-car Ohlins Shocks Time Trials session, lapping the big track in 19.630 seconds to overtake the standard of 19.800 seconds held since 2003 by Darren Miller. It was Moyer's first fast-time on the tour this season – and ironically, he was also the fast-timer for the only previous WoO LMS event run at Shawano in 1989.

Heat winners were Moyer, Richards, Brady Smith and Mars. The B-Mains were captured by A.J. Diemel of Bonduel, Wis., and Chub Frank of Bear Lake, Pa., who fell from a heat-race transfer spot when his car's left-front suspension broke with two laps remaining.

The WoO LMS moves to the western side of Wisconsin for the remainder of the week to headline the 23rd annual USA Nationals presented by U.S. Steel on Aug. 5-7 at Cedar Lake Speedway in New Richmond. A $50,000 top prize will be on the line in Saturday night's 100-lap event, which carries a purse of over a quarter-million dollars.

For more information on the WoO LMS, visit www.worldofoutlaws.com.