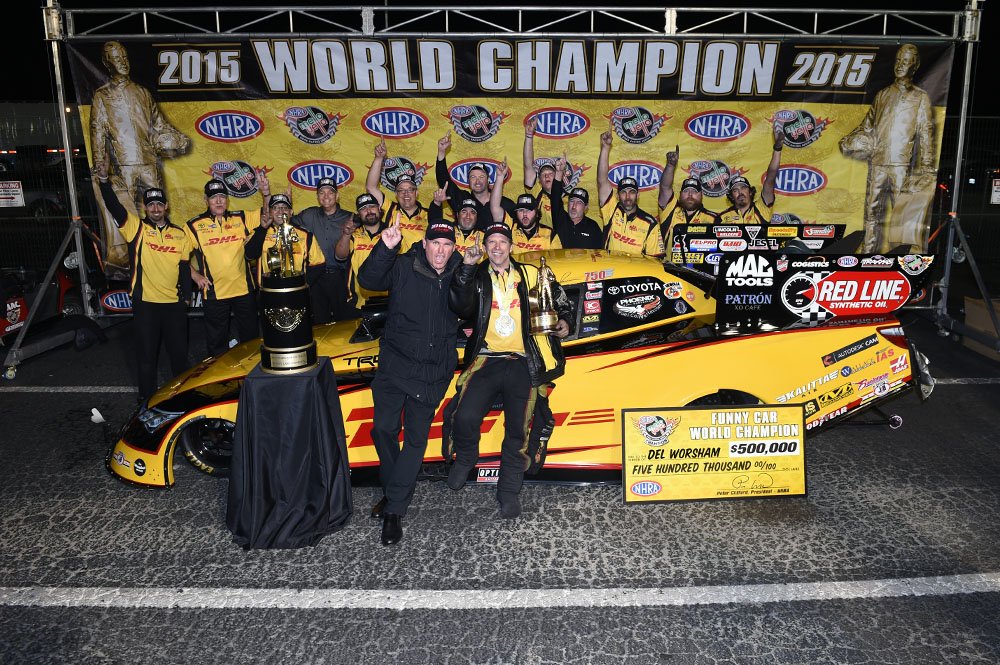 Benicia, Calif. (November 15, 2015) – Kalitta Motorsports driver Del Worsham became the third driver to win a world championship in both a Funny Car and Top Fuel today at the Mello Yello NHRA World Finals in Pomona, California.
Worsham secured the championship by defeating Jack Beckman in the semi-final round of the Auto Club Finals, in a weekend full of record-breaking runs, earning Kalitta Motorsports its first Funny Car championship.
"It is an amazing feeling. I have been here before, not that it did me any good up there," said Worsham. "It felt like it was 25 years ago, and I was making my first run. The team has been behind me, regardless of the situation. We are racing for Scott, Connie and the entire Kalitta Motorsports family. My teammates, sponsors, DHL, Toyota, Red Line Oil, thank you for your support. Nicky Boninfante, Jon Oberhofer, Dave Boyer and the entire DHL team, the job they have did has been incredible. They have not made a mistake since September."
The Kalitta Motorsports DHL Toyota Funny Car runs Red Line's 70WT Racing Oil, Heavy Shockproof® gear oil, and other products that helped keep the cars consistent throughout the season.
"What a day! We all miss Scott Kalitta so much," said Red Line president Cameron Evans. " To see his car, his team, succeed and dominate a championship after his loss defines Kalitta Motorsports and the massive commitment Connie Kalitta has put behind this effort. Being part of both of Del Worsham's NHRA championships is very special as well, as he has supported our brand for many years. This Kalitta operation is the best in the sport and their four Countdown wins showed it this year."
For more information on Red Line Oil products, visit www.redlineoil.com.