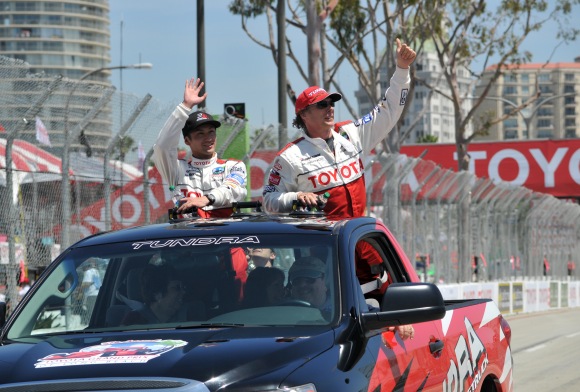 LONG BEACH, Calif. - Actor William Fichtner prevailed as the overall winner in a highly competitive race of America's favorite celebrities from film, television, music and sports in the 2011 Toyota Pro/Celebrity Race. Japanese drift racer Ken Gushi finished close behind Fichtner to come in second overall and first in the Pro category, followed closely by actor Michael Trucco.
Red Line Oil has supported Toyota Racing Development with motor oil, gear oil, and additives for nearly 20 years, outfitting the Toyota Celicas and now the Scion tC racers. All the Pro/Celebrity Race Scion are equipped with a TRD supercharger kit and race with with Red Line 5W30 synthetic motor oil, MT90 in the transaxle, CV2 synthetic axle grease and WaterWetter Super Coolant.
Fichtner, a versatile character actor who has appeared in such big-screen blockbusters as "Black Hawk Down" and "The Perfect Storm," led the pack as an excited crowd cheered him on throughout the race. From the first laps, Fichtner fought off Trucco, whose high position was a surprise to many, since Trucco had landed in the middle of the pack as a result of the previous day's qualifying session.
Actor–turned–pro driver Frankie Muniz was a contender as well, as he made his way up through the pack. Trucco placed third overall, just two seconds in front of the fourth-place Muniz. Fichtner crossed the finish line in his race-ready Toyota Scion tC just three seconds ahead of Gushi.
"This was a thrilling race from start to finish," said Les Unger, national motorsports manager with Toyota Motor Sales, U.S.A. "It's not often that a
celebrity comes out on top, and Ken Gushi looked to be hard to beat—Fichtner and Gushi battling it out for first place made for intense and exciting competition. This year's celebrity field was, as always, a real crowd-pleaser. Their commitment and enthusiasm, all for a great cause, is exactly what the Toyota Pro/Celebrity Race is all about."
Gushi spent the duration of the race battling to overcome the pros' 30-second handicap, quickly weaving among the racers to threaten Fichtner's lead. Though he was unable to best Fichtner, Gushi did score the best lap time of any driver, making the circuit in 1:46:42.
Toyota will donate $5,000 to Racing for Kids in the name of each celebrity racer and an additional $5,000 to the winning racer's charity of choice. The organization for which Fichtner raced is the Kyle Busch Foundation, which is dedicated to providing essential tools for less fortunate children throughout the country. Racing for Kids is a national nonprofit program benefiting children's hospitals in Long Beach and Orange County, Calif. Toyota has donated $1.9 million on behalf of the race and its participants to various children's hospitals since 1991.
The Toyota Pro/Celebrity Race is scheduled to be broadcast on the Speed Channel on Sunday, May 1, at 3 p.m. EDT and will be rebroadcast after that. (See local listings or www.speedtv.com for times.)